All over the world, archeologists have discovered places, artifacts, and written records that defy rational explanation. This has led some "fringe" voices to conclude that certain ancient mysteries can be attributed to ancient astronauts (aliens, UFOs, etc.). You decide.

Click to enlarge images.
---
Throughout Mexico and Central America fantastic pyramids have been remarkably constructed by various ancient people groups, including the Olmec, Maya, Toltec, and Aztec.
1

Giant head carved by the Olmec.
2

Mayan pyramid at Tikal
3
Mayan pyramid at Chichen Itza. There are 364 steps leading up to the top platform, which if included make 365. This shows that the Maya had a great understanding of the celestial cycles.
4

Observatory at Chichen Itza
5

Mayan pyramid at Palenque.
6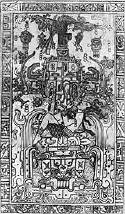 Wall carving from the Mayan temple of Copan. Could this be an ancient picture of a spaceship?
7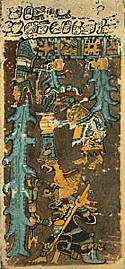 Mayan picture of the "Destruction of the World". (Dresden Codex)
8

Mayan calendar (extremely accurate)

QTVR of Mayan Ruins

Quick Time Mayan Movies

---
9

The Mayan civilization was eventually overrun by the Toltecs. These statues were very typical of the Toltec style.

10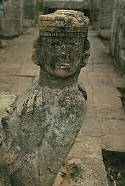 Toltec statue
11


This is the Pyramid of the Moon at Teotihuacan.
12


Pyramid of the Sun
---
The Inca were a dynamic civilization that lived along the Andes Mountains.
13

The amazing Macchu Picchu, a city in the clouds.
---
Another mystery of South America are the Lines of Nazca in Peru. Who made these enormous drawings that can only be seen from the air, and why?
14

15
16
17
18
19
20
21
22
---
23

Near the Carribbean island of Bimini exists what appears to be a massive stone road leading to nowhere. Remains of the legendary Atlantis?
24

In the American Midwest exists many mysterious mounds built by a vanished culture (Hopewell). This is the most famous, Serpent Mound (Ohio). It can only be fully seen from the air.
---
The Pacific
The people of Easter Island (Rapa Nui) erected enormous statues for an unknown reason. They simply stare at the sky. Legend states that the island was once inhabited by "bird-men".
25

A giant stone Moai
---
Europe

Throughout the United Kingdom and continental Europe there exist huge megalithic circles. Why were they built?
26

The most famous stone circle, Stonehenge in England.
27

"The Standing Stones" in Scotland.
28

Buddhist temple - Angor Wat
---

The Great Sphinx is a mystery stretching back to Egyptian times. How old is it? Some scientists now believe that the Sphinx could be well over 10,000 years old. Egyptian civilization began around 5000 years ago.
In southern Africa, one can observe the ruins of Great Zimbabwe, a city that existed here around 1200 A.D. What happened to the civilization that built it?