B) You decide to take a short walk before breakfast. You really slept in late today. You see the merchants setting up their tents along the narrow streets. As you walk, you look at the beautiful objects for sale under each tent. Shiny golden bracelets, baskets dyed in various colors, and brilliant mosaics. You see a wealthy merchant trading with a farmer. The merchant breaks open a clay ball called a bulla. Inside the bulla you see several clay tokens representing the items traded. A group of slaves is led down the street by an overseer. They carry shovels and picks of wood and stone. An old man sits quietly on the side of the street.
DO YOU?
E) FOLLOW THE SLAVES
F) LOOK FOR SOMETHING TO EAT
Does this type of learning-activity interest you? Click here to join AncientAdventures!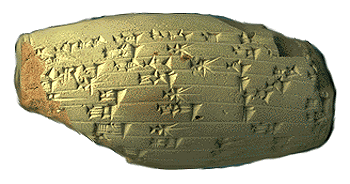 Home I CyberMuseum l Contact Us I Terms of Service
© Jay D'Ambrosio 1998