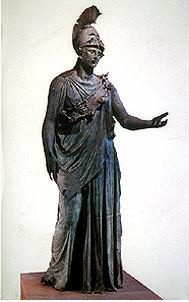 B) You walk inside the main room of the house. Your mother and brother sit on wooden stools near the table. Your mother apparently has been crying. Your brother looks up at you with a fearful look on his face. "Wall diggers broke into our dwelling last night. (Wall diggers were thieves who dug through the mud brick walls into people's homes.) They stole mother's jewelry, and worse, they stole the statue of Athena!". "How could they do such a thing? Don't they know that Athena will bring ruin down on our family and theirs? "
DO YOU?
D) OFFER TO FIND AND RETURN THE STATUE
E) RUN AWAY FOR FEAR OF ATHENA'S ANGER
Does this type of learning-activity interest you? Click here to join Ancient Adventures!
Home I CyberMuseum l Contact Us I Terms of Service
© Jay D'Ambrosio 1998